This season's finale is whatever. Carrie can't differentiate between chickens and roosters no matter how many times she's corrected. Samantha has issues with the pre-op transsexual hookers always outside her window at 4am. Charlotte is obsessing about Trey. And then the whole Carrie/Miranda fight…well, let's just get to it and close out season three with all the reasons why Carrie Bradshaw is the WORST.
#1 – After being rudely awoken by crowing coming from the roof of the animal hospital that is somehow adjacent to her building, Carrie goes there to bitch about the "roof chickens and the crowing" (they are actually roosters) and then begs off when she learns they were rescued from some sort of Bronx Fight Club For Roosters. She says she'll get over it….SPOILER: she doesn't.
#2 – Carrie and Miranda are strolling down Whatever Avenue when they spot Steve and Aidan enjoying some beers outside at a restaurant. They both freak out, horrified the two men they've wronged are even friends. They hide in a doorway deciding what to do and eventually realize they will just need to suck it up.
Also, I do not approve of Carrie's jeans.
#3 – Steve is thrilled to see them but Aidan looks like he'd rather be shot in the face than deal with Carrie. And when the gals notice two other beers on their table, Carrie jokes they must have given Aidan and Steve drinking problems since it is apparently beyond her ability to fathom that Aidan could get over her. The extra beers are, of course, for their girlfriends who come back from the bathroom together and make the situation even more awkward, if that was even possible.
#4 – Later, while everyone helps Charlotte unpack in her apartment (she had only sublet it so when her marriage failed she had an immediate place to stay), Carrie laments that both Aidan and Steve have new girlfriends "already". Well she slept with at LEAST two guys since she told Aidan she cheated on him the day of Charlotte's wedding but he can't have a new girlfriend?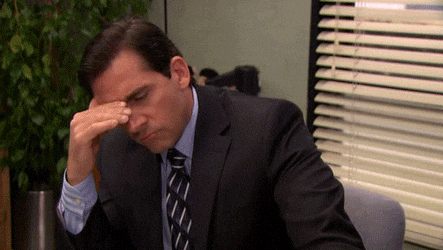 #5 – THEN when Charlotte says women obsess over men when the relationship ends but men don't care, Carrie has the GALL to say she doesn't obsess over relationships. UM, HI HAVE YOU MET YOURSELF? She is so unaware of reality it is frightening.
#6 – Later when writing her column, Carrie actually has to wonder if men are not always to blame. Like, what? I had to watch this bit twice to make sure I heard the voiceover correctly:
Later that night I got to thinking about men, and women, and relationships. Or more to the point, how women feel men disappoint them in relationships. Then a radical, almost earth-shattering thought popped into my head. What if everything ISN'T the man's fault? After a certain age and a certain number of relationships, if it still isn't working and the exes seem to be moving on and we don't, perhaps the problem isn't the last boyfriend or the one before him or EVEN the one before him. Could it be, the problem isn't them, but horror of horrors, is it us?
Okay, I'm going to need a minute to digest this. Was cheating on Aidan with Big Aidan's fault? Does she really have to wonder if she is ever to blame when a relationship ends? I mean, this is exhausting.
And this doesn't even apply to just Aidan. In Season 2 she straight up ghosts Sean because she can't handle that he's bisexual. In Season 1, her boyfriend dumped her when he caught her ransacking his apartment looking for signs that he's a freak. What is she even talking about when she asks if it COULD be her? IT IS HER. BEACUSE SHE'S THE WORST.
#7 – Big calls her at 11:30 in the morning and she is STILL asleep because of the crowing chicken roosters. He says he really needs to talk to her and asks her to meet him for a 2pm lunch on Saturday at the Boathouse in Central Park. Of course she says yes, she can't help herself. Another loop on the merry-go-round is about to commence.
#8 – Then we get to the blowout with Miranda. Score about a million points for Miranda on this one for correctly pointing out how pathetic and needy Carrie gets when it comes to Big.
Of course Carrie vehemently denies all of Miranda's correct observations because she is the valedictorian of the School of Delusion, Denial & Suck.
#9 – Just before meeting Big for lunch, she calls Miranda (from a PAY PHONE) for validation, which Miranda provides. When Big attempts to hug/kiss her, she side-steps and they both fall into the lake/pond/whatever it is. Lunch is over before it starts. Of course they go back to Big's place to shower but Carrie manages to control herself. He wants her to stay but she blathers on about how they just don't work, blah blah whatever.
#10 – Samantha throws a Kiss and Make Up party for the hookers she has been fighting with. It is a rooftop party and they're drinking flirtinis and one of the party guests basically asks Carrie to work it. Which she is more than happy to do as it puts her in the center of attention. GAG. Also I'm confused about her outfit. Are those shorts or underwear? Do I also wish I could be thin enough to pull off that look? Yes.
So that's a wrap on Season 3. Season 4 is going to give me SO MUCH to work with because Aidan and Big are both back in the picture and also SHE IS THE WORST.
SIDEBAR: Did I hear Samantha correctly when she was ranting about how she pays $7,000 a MONTH for her apartment? That's…a lot of money.